Summer 2020 we hosted a VIRTUAL Bridge to Freedom School! The program was designed to empower children, igniting in them a passion for learning. During the duration of Virtual Bridge to Freedom School, scholars participated in workshops designed to expand their thinking; from differentiated activities, grade-level Zoom meetings, to conversations on current social topics, and spiritual chats, they are learning to love learning!
Bridge to Freedom School Kick-Off
Bridge to Freedom School started with training our Y.O.U. youth and volunteers through sessions led by our program directors and our partners at City Year and MyCom Cleveland. We ended the week with a drive-through Kickoff Event. Our scholars drove through to pick up their packet of materials.
Topic: Resiliency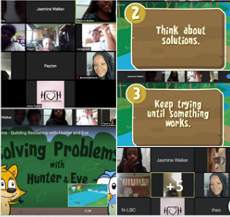 Our scholars discussed resiliency. They talked about the upcoming school year and the importance of never giving up, using problem-solving techniques, asking for help, and trying to stay positive and forward-focused when we face problems and challenges.
Topic: COVID-19
Our scholars discussed the Coronavirus pandemic. They discussed the definitions of virus and pandemic, and the importance of washing hands, wearing a mask, and social distancing. Our scholars also drew and decorated their own masks with words and images that are meaningful to them! We closed out our sessions today with a lesson on Ephesians 6 The Armor of God.
Topic: Voting
Our scholars talked about voting. They discussed what types of things we can vote for, where and how we vote, and why it is important to vote. Our scholars also practiced voting on different topics and counting the votes on our Zoom call.
Topic: Asset Building Club
On Friday's our scholars participated in the Huckaby Heart Asset Building club.  The goal of the sessions was to make our scholars aware of developmental assets (Support, Empowerment, and Social Competencies) that will help them grow up healthy, caring and responsible. Discussions focused upon setting good boundaries & expectations, constructive use of time, having positive values, and being committed to learning.